I was recently introduced to Nordic skincare brand Lernberger & Stafsing. I am very familiar with US skincare brands and French skincare brands but have never tried other Scandinavian ones besides Meraki ( see post here ). When I hear the word Scandi, the first thing that comes to mind is : simplicity. Scandinavians are well know for their sophisticated, sleek minimalistic style and way of living and this applies to beauty as well. The line is environmentally conscious by being cruelty-free and vegan. The eleven products in the series are focused on gentle purifying and nourishment to make your face appear smooth and lit from within. In this post I will talk about 4 products from their line.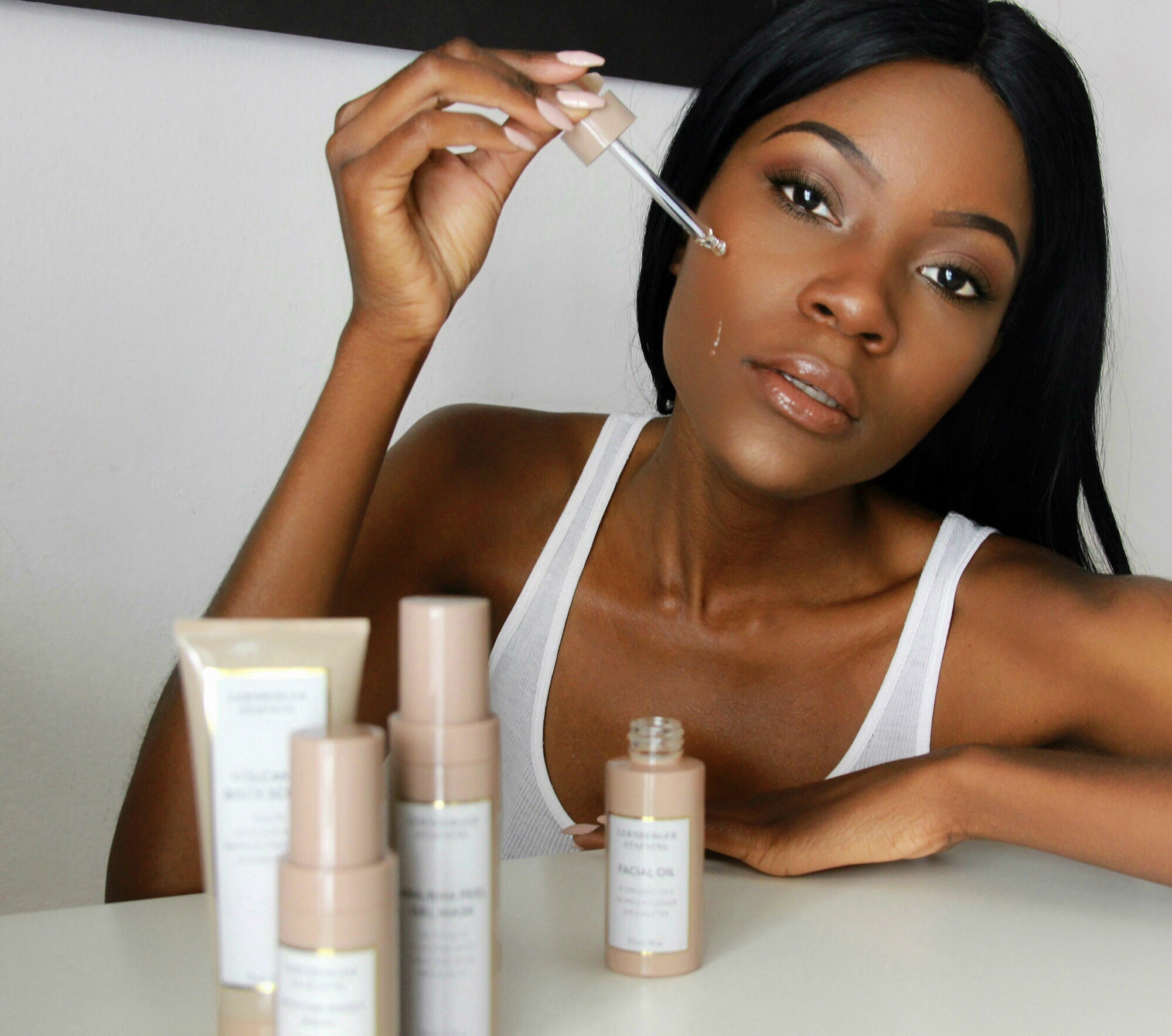 F A C I A L  O I L
This oil is formulated with 22 different botanical extracts and organic oils  that bring radiance, clarity and balance to the skin.
I use this oil 2x a week and usually mix it with my night cream. Even though it's an oil it has a light consistency which also absorbs rather quickly without leaving your skin greasy. I have super oily skin and ever since using this, I have not broken out. 
I love that it's free of parabens, sulphates or other non-beneficial nasties on the ingredients list. As for the packaging, the facial oil comes with a glass dropper so you might want to be a little careful not to break it.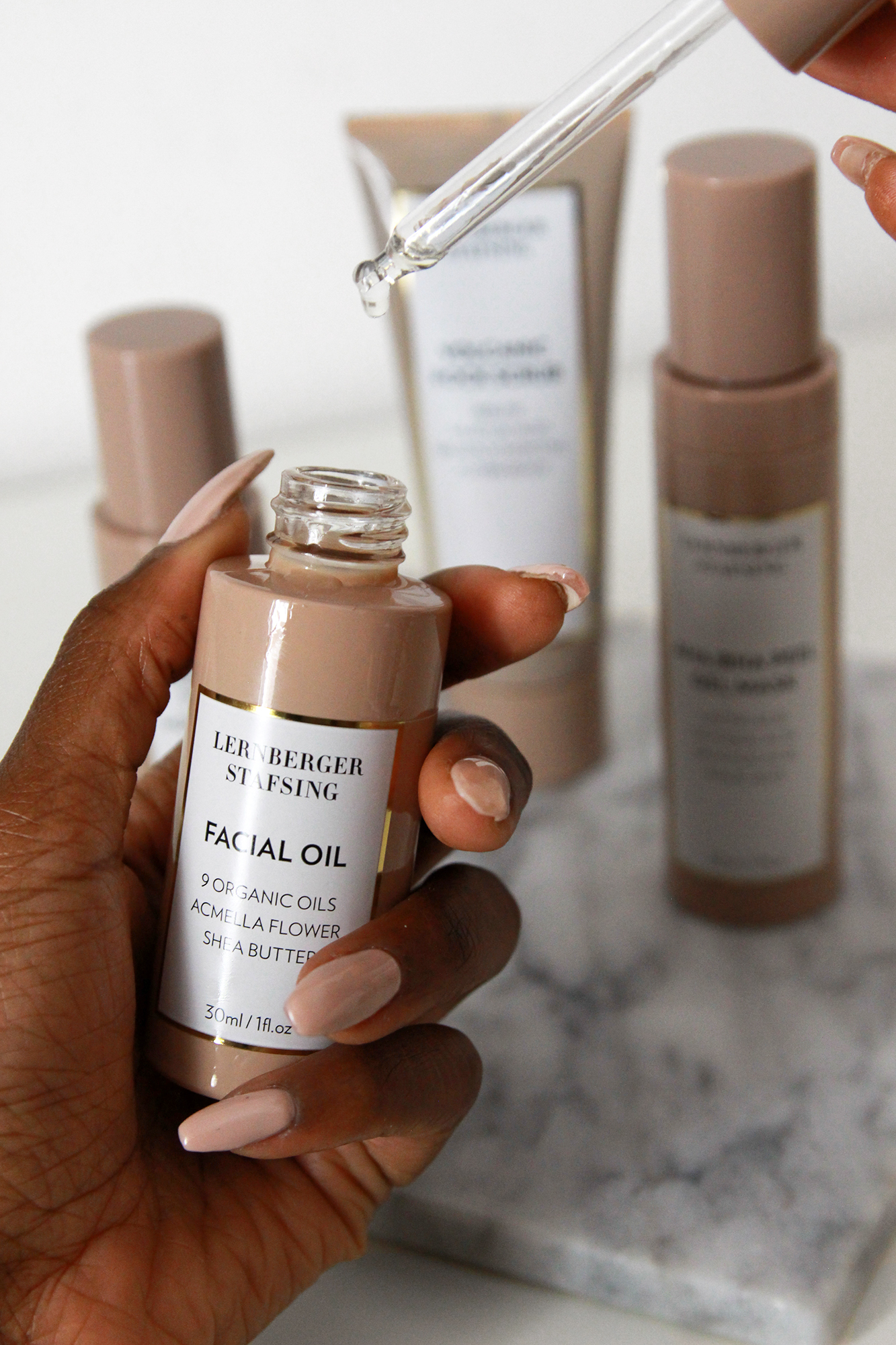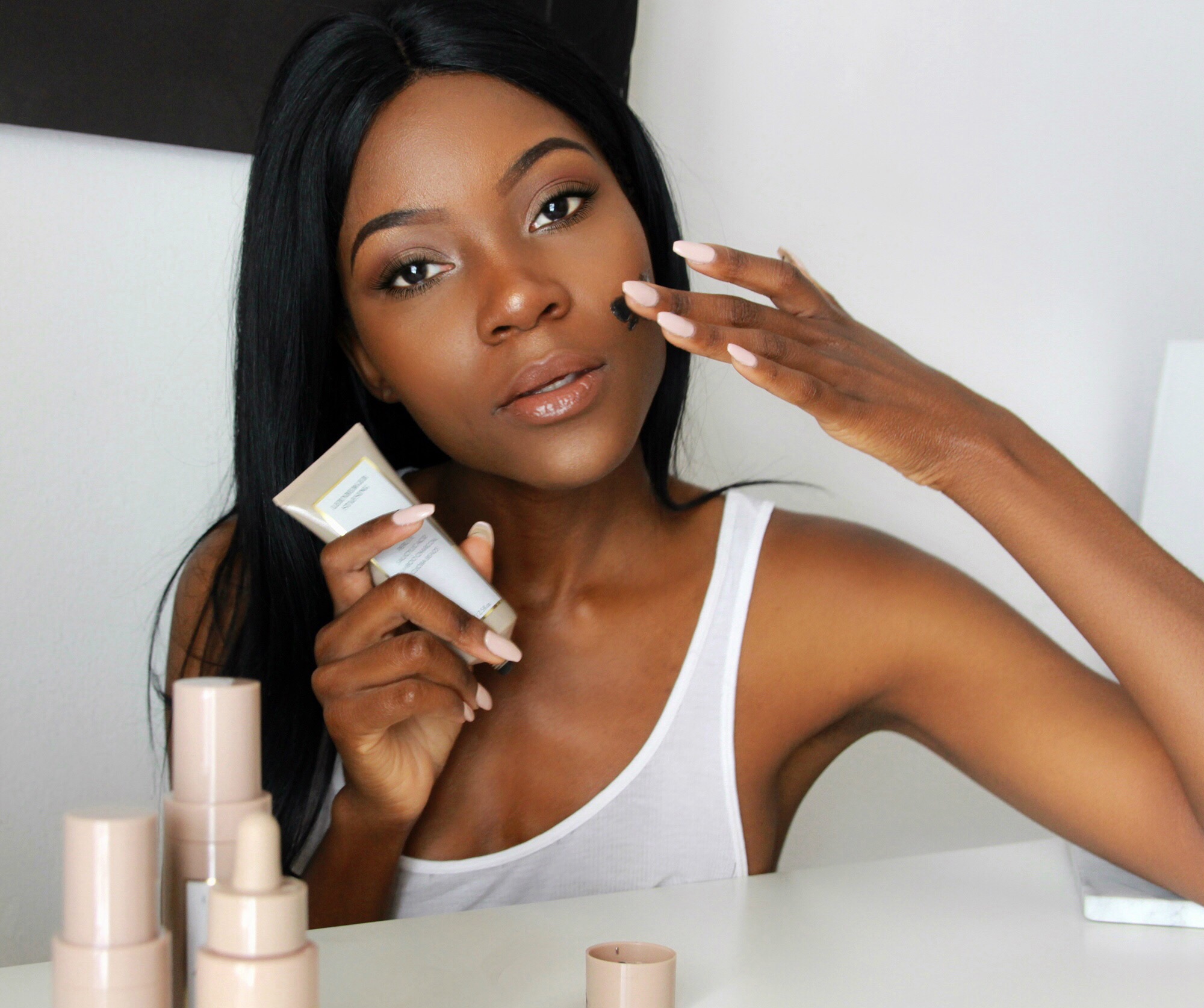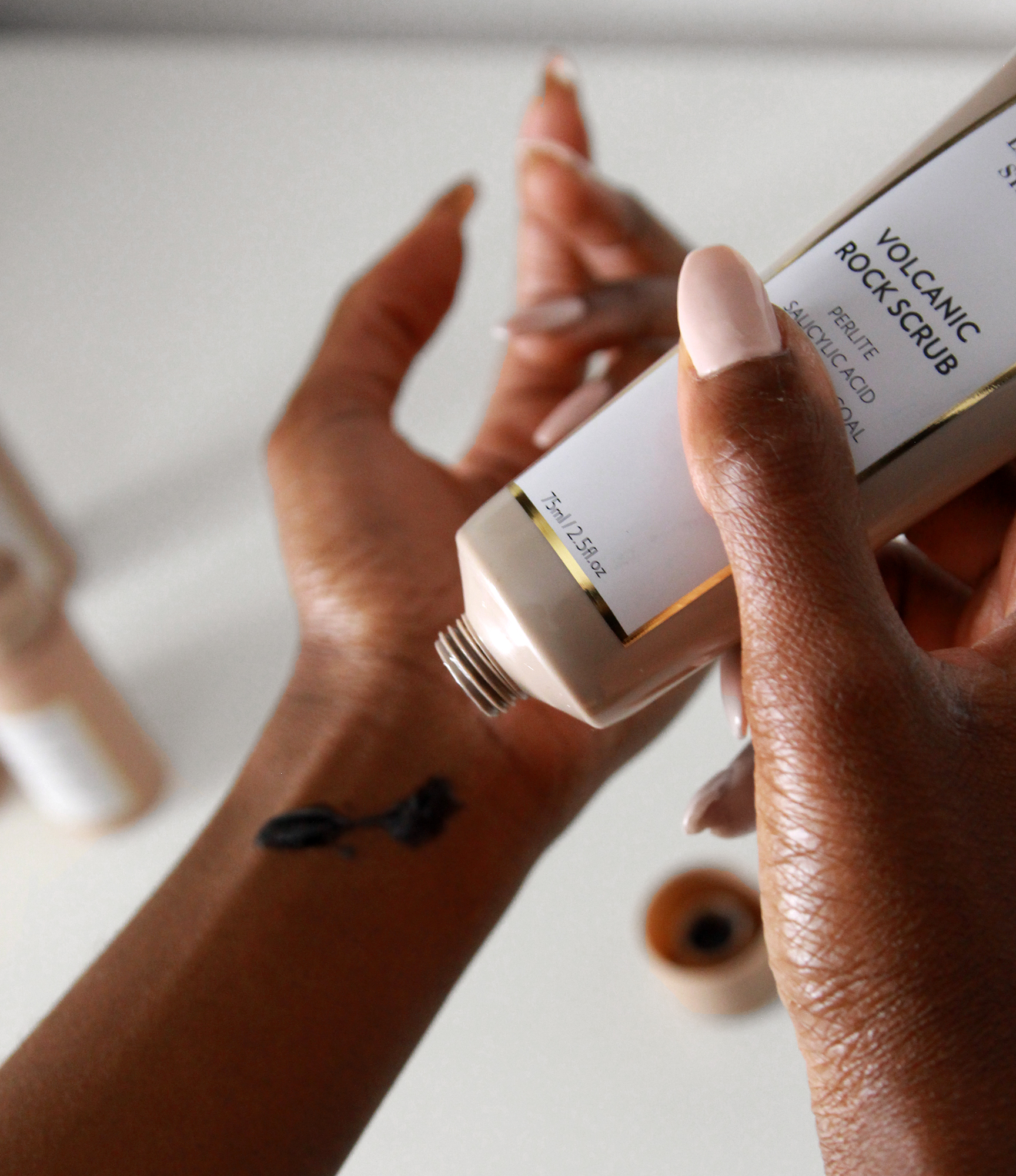 V O L C A N I C  R O C K  S C R U B
This one is probably my favorite from the line. It's a black face polish that contains Bamboo charcoal, Salicylic acid, Jojoba beads and Volcanic rock sand. It's the perfect combination to detoxify and rejuvenate my oily skin.
After using it I feel my skin noticeably smoother, smaller pores and a brighter complexion. For you too see results you have to use it consistently 2-3x a week (depending on your skin's condition ) for at least a month.
A H A  / B H A  P E E L  M A S K
I have chemical peels often, so this is a product I was very excited to try. This gel is formulated with AHA's / BHA's such as Lactic Acid, Glycolic Acid, Salicylic Acid, Malic Acid. They basically "remove" the outer dull surface of your skin brining out a new radiant layer. With time you will notice a reduced appearance of spots, blemishes and uneven skin tone.
After cleansing your skin, you apply a thin layer of this avoiding your eye area. There might be a slightly tingling or burning sensation but that's completely normal. It means it is doing its job (but if gets to the point of unbearable pain the wash it out immediately). You should leave it on for about 5-10 minutes then rinse it out. It's best for this to used at night because your skin will be sensitive after and it is recommended you use sunscreen if you do the peel during the day.
I love to use this after every flight I have in the evenings before bed. Cabin air is pressurised which leads to congested, and dry skin. This mask helps my skin "breathe" again and I follow up with a moisturizing sheet mask or a moisturizing serum.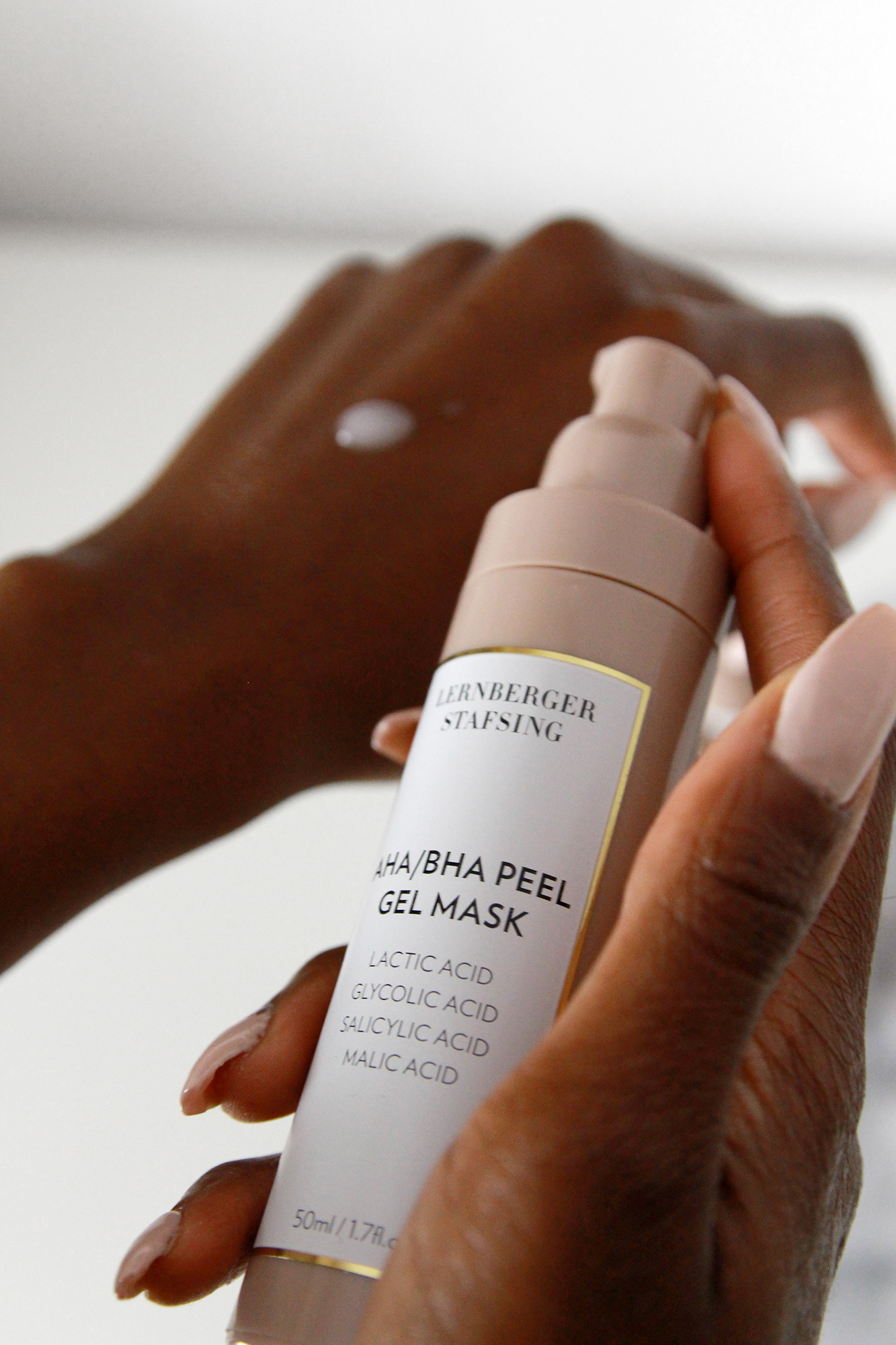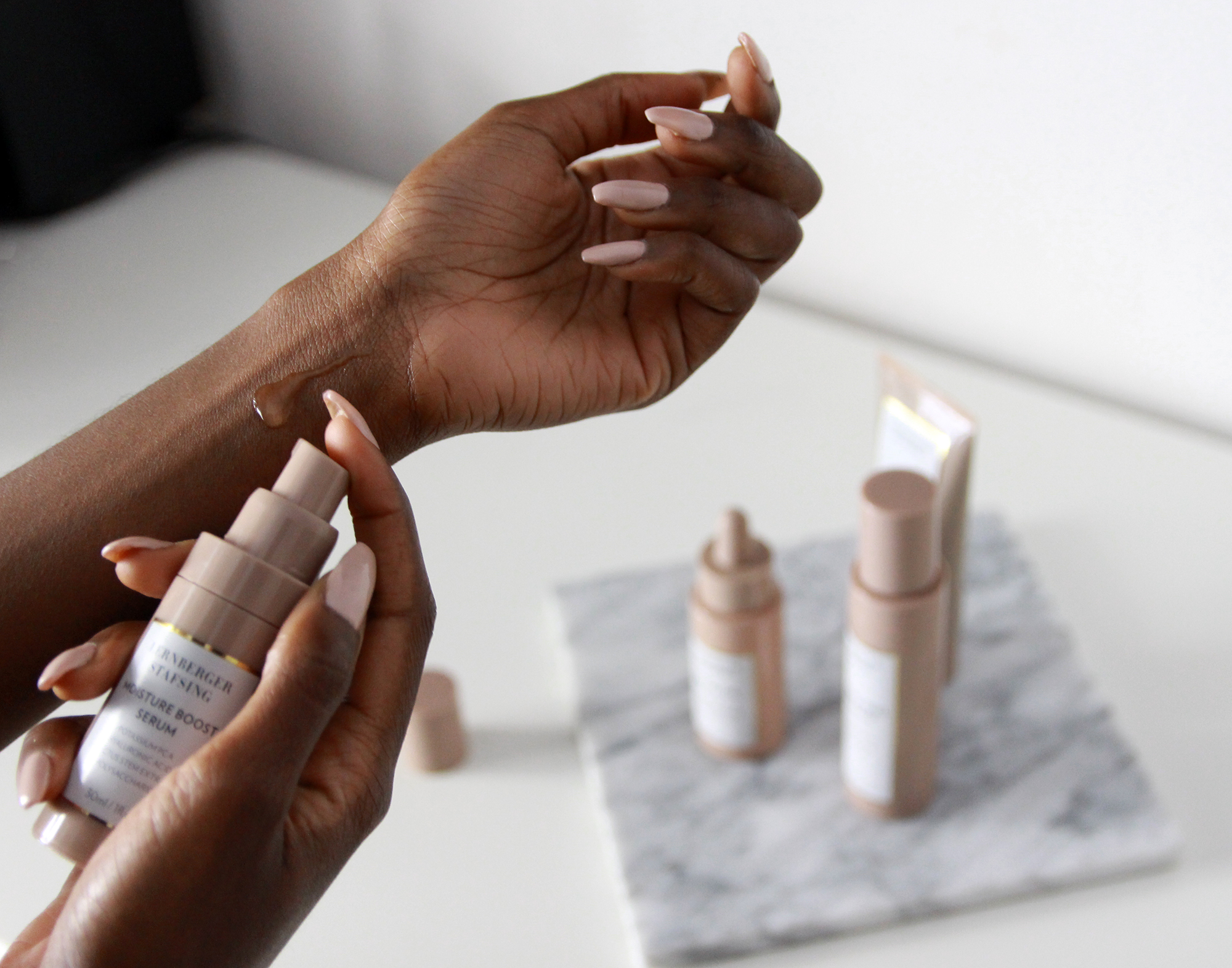 M O I S T U R E  B O O S T  S E R U M
Every time I apply this on my face I could feel my skin quenching its thirst. It's a super hydrating serum with Hyaluronic acid and other ingredients that prevent the skin from drying out. 
Because it's literally as light and as hydrating as water, you can combine it with a day or night cream if you feel your skin needs something heavier. I use the Moisture Serum after the AHA/BHA mask and it instantly replenishes and hydrates my skin post-chemical peel.