Oily skin is a blessing and a curse. On one hand having oily skin means you'll get fewer wrinkles but on the other hand breakouts never stop with age and you have to deal with the "oily frying pan" look on your face constantly. Controlling oily skin can be a challenge and I'm always on the hunt for products that help cut down shine and reduce the amount of breakouts. I recently stumbled upon a new beauty brand : Herbivore Botanicals ,on Instagram. They are a fairly new vegan, green skincare brand with a cool, clean minimalist approach in their packaging that you can't resist.
B L U E  T A N S Y | RESURFACING CLARITY MASK
This mask is all natural chemical exfoliator that contains AHA / BHA. It is a clarifying and cooling gel mask with fruit enzymes, blue tansy and white willow bark that gently exfoliate and resurface the skin.
The instructions tell you to use it 3 days in a row initially ( then reduce to 1x week ) and leave on cleansed skin for 20 minutes. Its consistency is very goopy-gel like and when you first apply it on your face it tingles a little. I can feel the product working and once I wash it off, my face looks brighter and feels so fresh and so clean. The only thing I dislike about the product is that it comes in a jar, which is very unsanitary since this mask doesn't contain any preservatives. On the other hand though when you buy it it comes with a small spoon which you should use ( and wash )  instead of putting your fingers in the jar.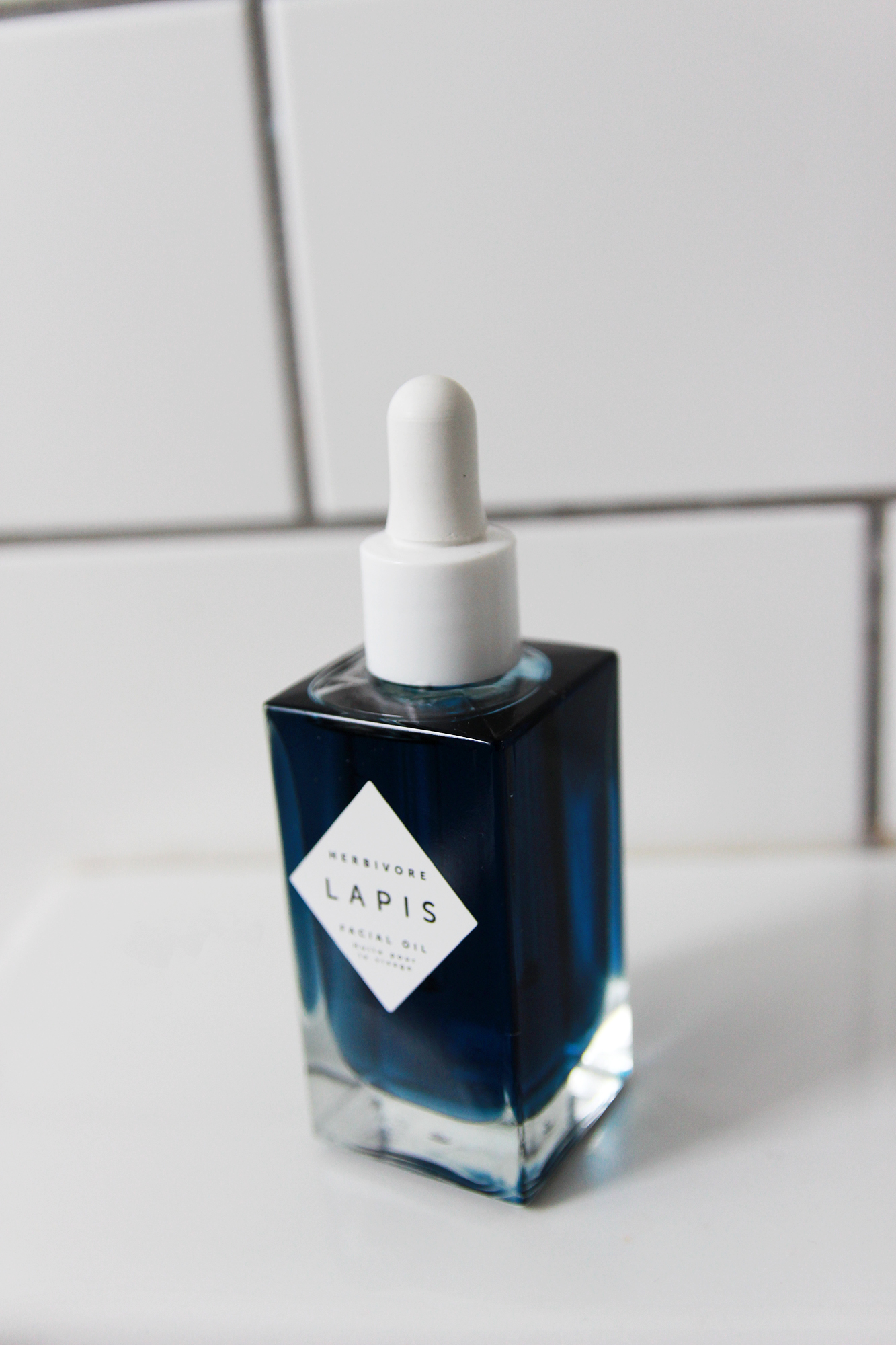 This oil is godsend! Honeslty, I was very reserved about this ( any most ) facial oil but it proved me wrong. As counter-productive as you may think it is to be putting oil on your face, it's actually better than any lotion because it allows your skin to produce its natural sebum instead of clogging up your pores, and in turn causing them to overcompensate and produce too much oil. This oil has been an amazing addition to my beauty regimen. I use it every other night, right before bed on cleansed skin. The best thing is that it doesn't feel oily after applying and quickly absorbs into your skin leaving it soft and dewy.
The key ingredients in this oil are: 
Blue Tansy, which is high in azulene. Azulene is a powerful anti-inflammatory + antibacterial that aids in reducing redness and clarifying the complexion.
Squalene, which has excellent emollient properties and acts as a light protective barrier to keep moisture in the skin. It also protects the skin against hyper-pigmentation and premature aging.
Jasmine Sambac Oil, its scent is intoxicating and the oil itself works to increase the skin's moisture content and increase its elasticity.
The only downside of this product is its price. It retails for about $70 but I'm pretty confident the bottle will last over 6 months with daily use.
Using these two- Facial Oil + Mask- in conjunction is definitely the most gorgeous, luxurious breakout/troubled or combination skin treatment ever.
SHOP THE POST