Day 3 of #LFW began with a slight hangover from the previous night's afterparty. I was so tired and actually contemplated skipping the morning show and sleeping in. But no! I was in London and in #LFW so I needed to wear my BIG Girl pants, get up , splash my face with water, get super caffeinated and head out to the shows. And wear lots of concealer of course!
My ootd was very plastic fantastic! Keep note that you will see plastic everywhere this SS 18 and also in the upcoming AW 18 trends. If you are already loving the PVC / vinyl trend then this shouldn't scare you. It's just a level up and just as easy to wear.I went for a futuristic-casual look that was inspired by Miu Miu with their plastic raincoat and paired mine with a logo t-shirt, jeans and eye-popping purple sock boots. As for accessories, I opted for silver statement earrings ( again ) and carried my plastic tote bag.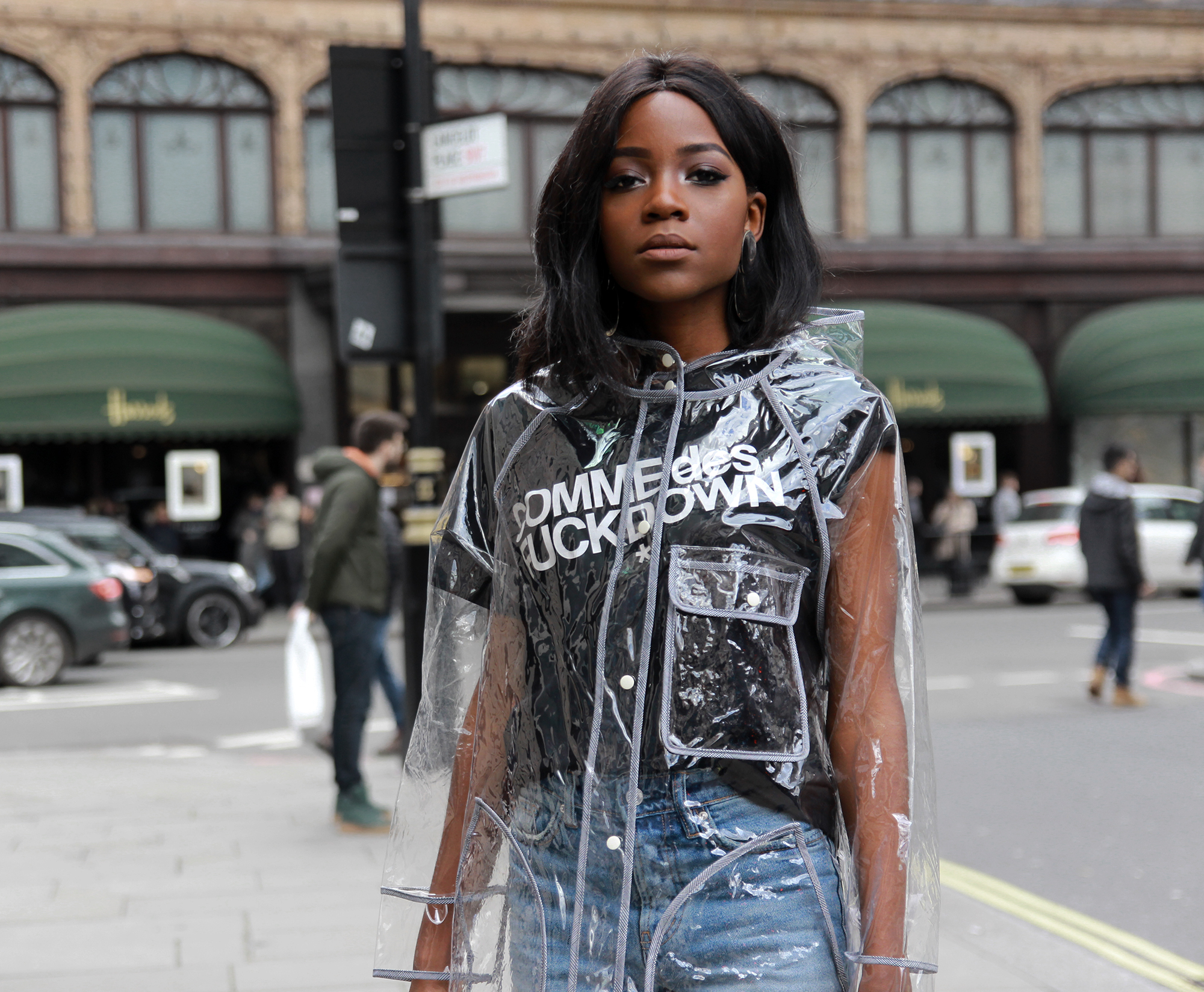 First show of the day was by Apu Jan. Apu Jan is well known for integrating fiction inspired designs with unique knitwear techniques His style is a combination of traditional oriental elements with a contemporary twist.With an array of astrological inspired prints with a colour palette of blue hues and cream accents. I  loved the intricate white stitching imitating constellations on sky blue, loose-fitting garments, as mellow beats from DJ Questionmark played in the background. You can see his new AW/18 collection here.
The highlight of Day 3 of #LFW was definitely Maison Margiela's MM6 presentation for AW/18. One word that could sum it up : Space.
The memorable presentation took place in a central London pub that had been completely decked-out in tin foil. Margiela's signature pieces were transformed when in silver metallic. The collection's concept was that something classic can be completely reinvented when recreated in silver metallic.
I would like to know your thoughts on my look of the day. Will you wear the plastic trend this SS 18?
MY LOOK
RAINCOAT | Zara
BAG | Mango
SHOES | Aldo
JEANS | Zara
EARRINGS | Dyrberg/Kern
xoxo,
Stay Chic, Stay Glam