Self-care is something essential for your mental, emotional and physical being. However nowadays it is far from easy. We live in a time when we don't pause and with the constant movement we don't necessarily always have the time to step back, nurture ourselves and feel more connected to our inner being. Lack of self-care can manifest in so many ways such as exhaustion ( both mental and physical ), stress/anxiety/despression, diseases.
The past year my schedule has been pretty hectic and the additional frequent traveling certainly didn't help the situation. I ended up burnt out with no energy, not being able to properly function. I started to feel physically sick and that's when I decided I should see a doctor and get tests done. I was actually scared that something was very wrong with me but when my doctor came back with the results he told me that I am perfectly healthy and suggested that I needed to "take a break". He was absolutely right. I had completely neglected my well-being and all this was my body reminding me to take care of it. Yes, life can be busy at times but self-care can even be a 10 minute meditation in the morning and before going to sleep. No matter what you choose to incorporate in your self-care routine, be consistent with it. I think that's the hardest part. Here are some of the things I started doing recently in my self-care journey.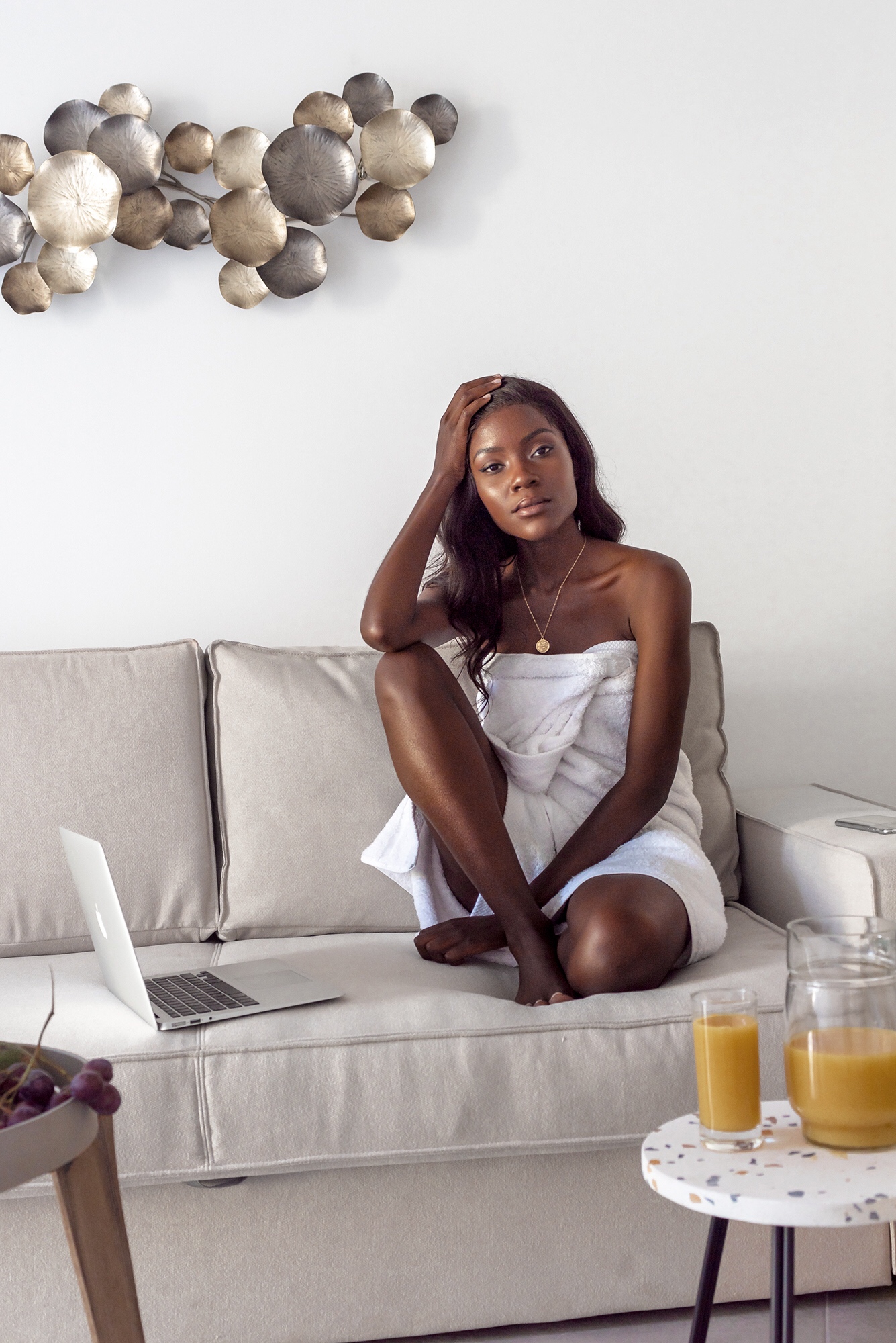 H Y D R A T E
Ok, this one is very obvious however I ended up drinking as little as one glass of water a day. Bad I know. If you're not good with hydrating, you can download an app that reminds you to drink water. There are tons you can find in the App Store. Although I have upped my daily hydration levels, I still use the app and get reminders.
S L E E P
Sleep can have a huge effect on how you feel both emotionally and physically. You should get at least 7 hours, with 8 being optimal but everyone is different. I need at about 9 hours of sleep to feel well rested. Frequent traveling has really messed up my sleeping schedule but I have found what makes me get back on track instantly. Sure, I might not sleep well for a day or two due to jet lag but what has helped me greatly is night herbal teas and hot showers before bed. I have made it a habit to drink a cup of tea with chamomille, passionflower, lavender by Twinnings ( I think it's called Sleep Tea) , meditate or read a book then go to sleep. My room is always pitch black and sometimes if I feel it's not dark enough I will wear a sleep mask. Another small tip: spritz your pillow with sleep spray. I got one from This Works brand and it's one of those tiny things that make sleep even more enjoyable.
E X E R C I S E
Exercising is always important . It's not an excuse not to exercise even when you are very busy. It doesn't need to be a hardcore, intense workout. Even walking counts. I hit the gym a lot and do weights but one the occasions that I feel too tired I might do yoga or take a nice walk outside.
T H E  P O W E R  O F  N O
Sometimes being selfish is the best self-care practice. Always being a yes person can lead to burnout, anxiety and exhaustion. You can't please everyone all the time. And you will never get enough time for yourself.
E A T  R I G H T
A healthy diet leads to healthy heart, mind, body and soul. Make sure you are getting your veggies, fruits, protein and healthy fats. Avoid processed food, sugar and a lot of caffeine and alcohol. 
V I T A M I N  D
Get out and get some sun. Sun Therapy is a real thing. Lack of vitamin D can lead to depression, anxiety and all that nastiness. If you live in a place that doesn't get enough sun then get a test done to see where your Vitamin D levels are. Your doctor will give you the right dosage to supplement.
H O M E  S P A
Take and long steamy shower. Burn a fragrant candle and do that face mask. All while sipping a delicious cup of tea and listening to relaxing music. This one is my favorite after a flight and even on Sundays. I've found it really helps with my anxiety and mood overall.
Oh, and make sure you turn off that phone. No interruptions allowed.