We may be eating organically, recycling regularly but when it comes to skincare, we may be straying away from that philosophy. Many beauty products contain synthetic ingredients, unnecessary chemicals, parabens, fillers but thankfully there are brands that don't use those harmful stuff and deliver great quality beauty products with all natural or organic and natural ingredients.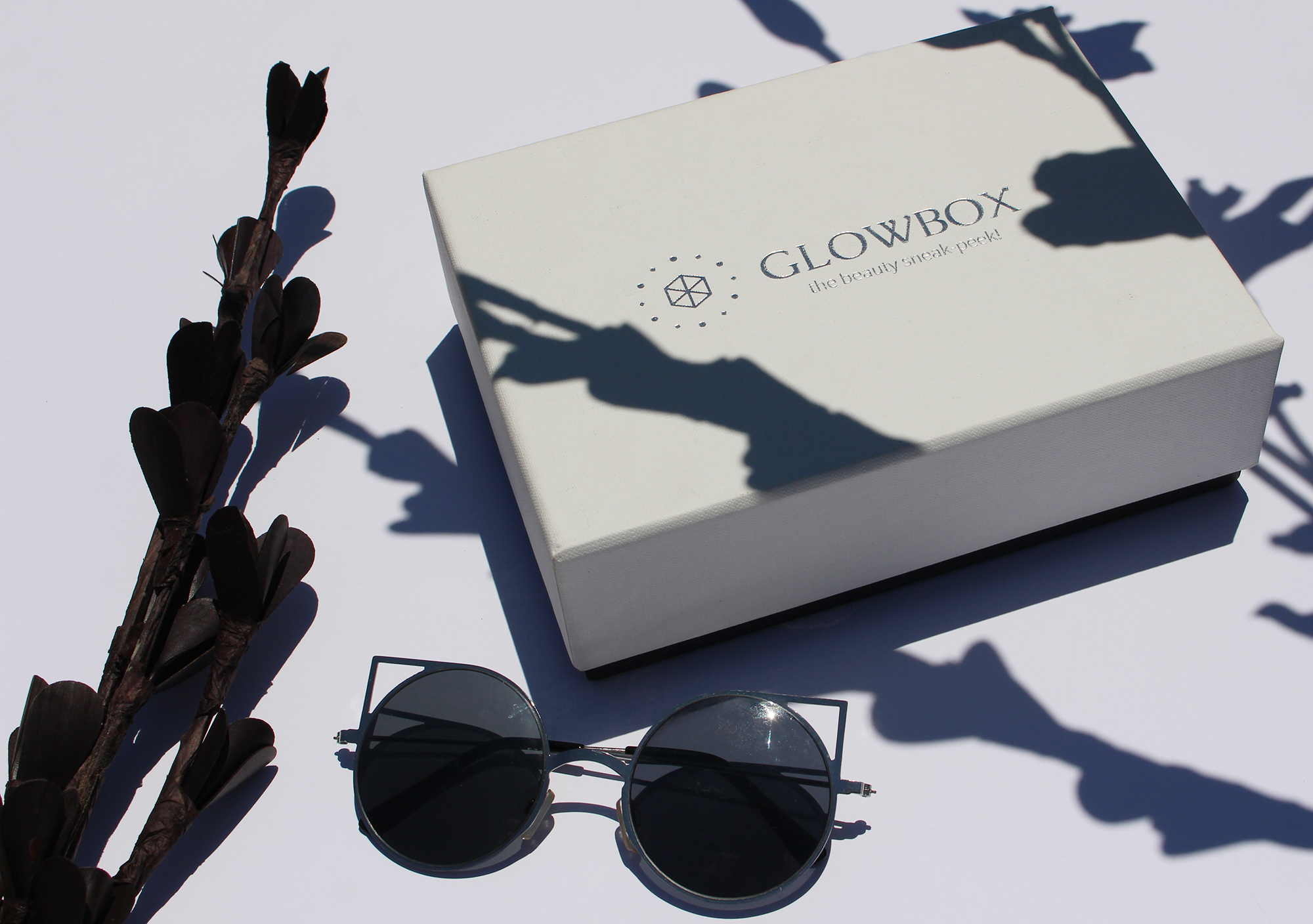 This month's Glowbox is all about organic skincare and beauty products with natural ingredients. Let me introduce you to Fresh Line:
"Inspired by the Ancient Greek wisdom of herbal therapy and following traditional family recipes, Fresh Line was founded in 1992 in Athens. Throughout the years, driven by the need to balance, harmonize and promote the health of body, mind and spirit, Fresh Line developed exclusively in-house a wide portfolio of products for face, body & hair based on herbal extracts, organic plant oils, essential oils and natural butters. Each recipe is developed with carefully selected ingredients to cover the daily beauty routine."
Now let's talk about the contents of the box:
1.Cleo Mild & pH Balancing Hair Wash ( Sensitive Scalp)
2.Erato Repairing & Moisturizing Leave-in Serum
3.Pistachio & Almond Body Milk
4.Pistachio & Almond Shower Gel
5.Hera Phenomenon Corrective Serum ( All Skin Types)
6.Coconut SPF15 Lip Therapy
7.Cardamom Handmade Soap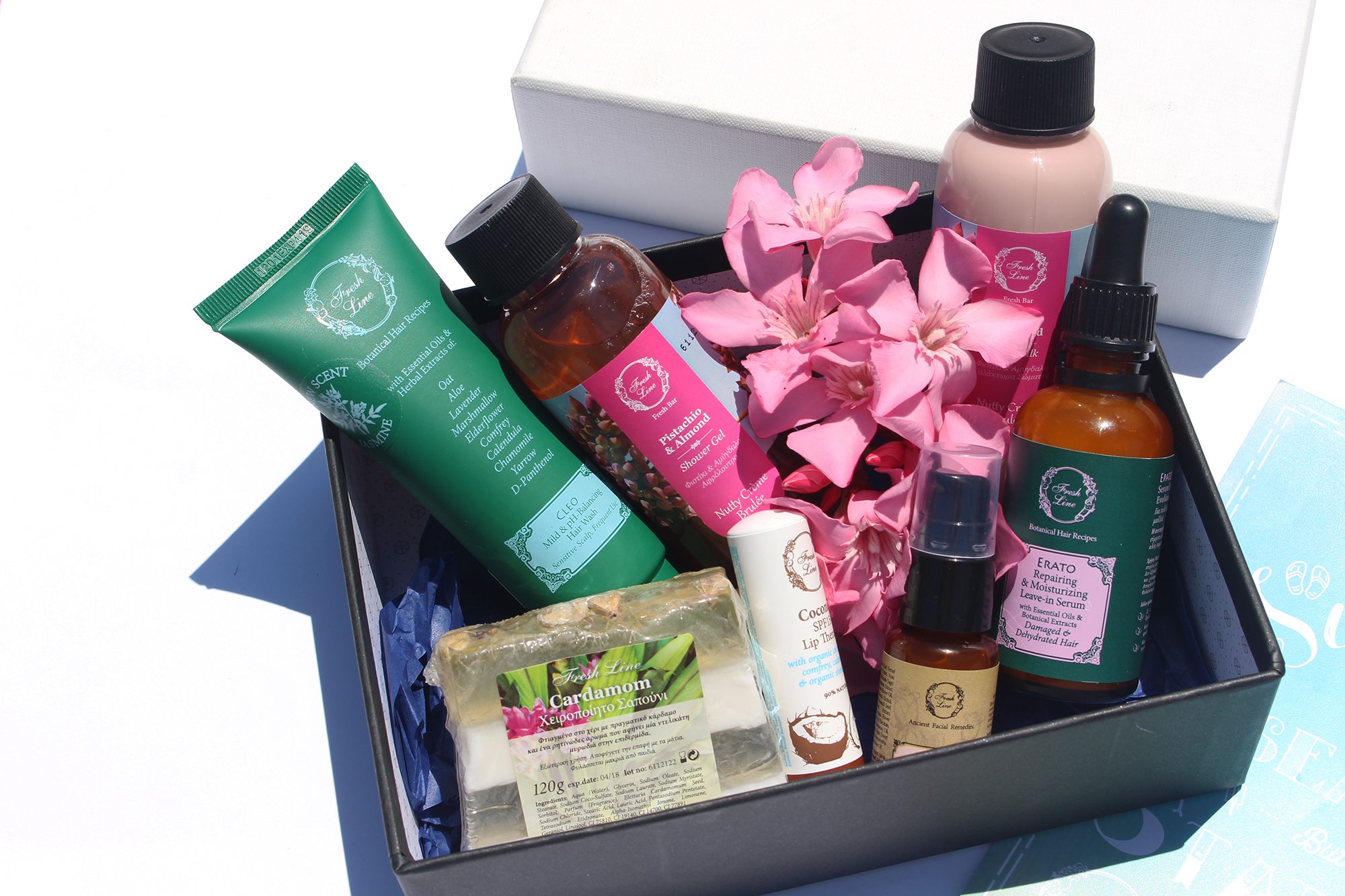 FACE | Hera Phenomenon Serum / Coconut Lip Therapy
The first thing I tried from the products was the face serum. It's a corrective serum for fine lines, general skin imperfections that contains hyaluronic acid, essential oils ( sage, sandalwood etc) and herbal extracts.It has a light, watery consistency that absorbs quickly which is perfect ( doesn't feel heavy and can be used as a base before makeup) and smells like fresh lemongrass.
The Coconut lip balm with SPF 15 has a combination of cocoa butter, organic shea butter, organic Greek olive oil and stevia provide superior hydration, elasticity and protect the lips. I'm not a fan of lip balms because they always make my lips drier after a while but so far I find this one to be hydrating and my lips have kinda stopped peeling so often.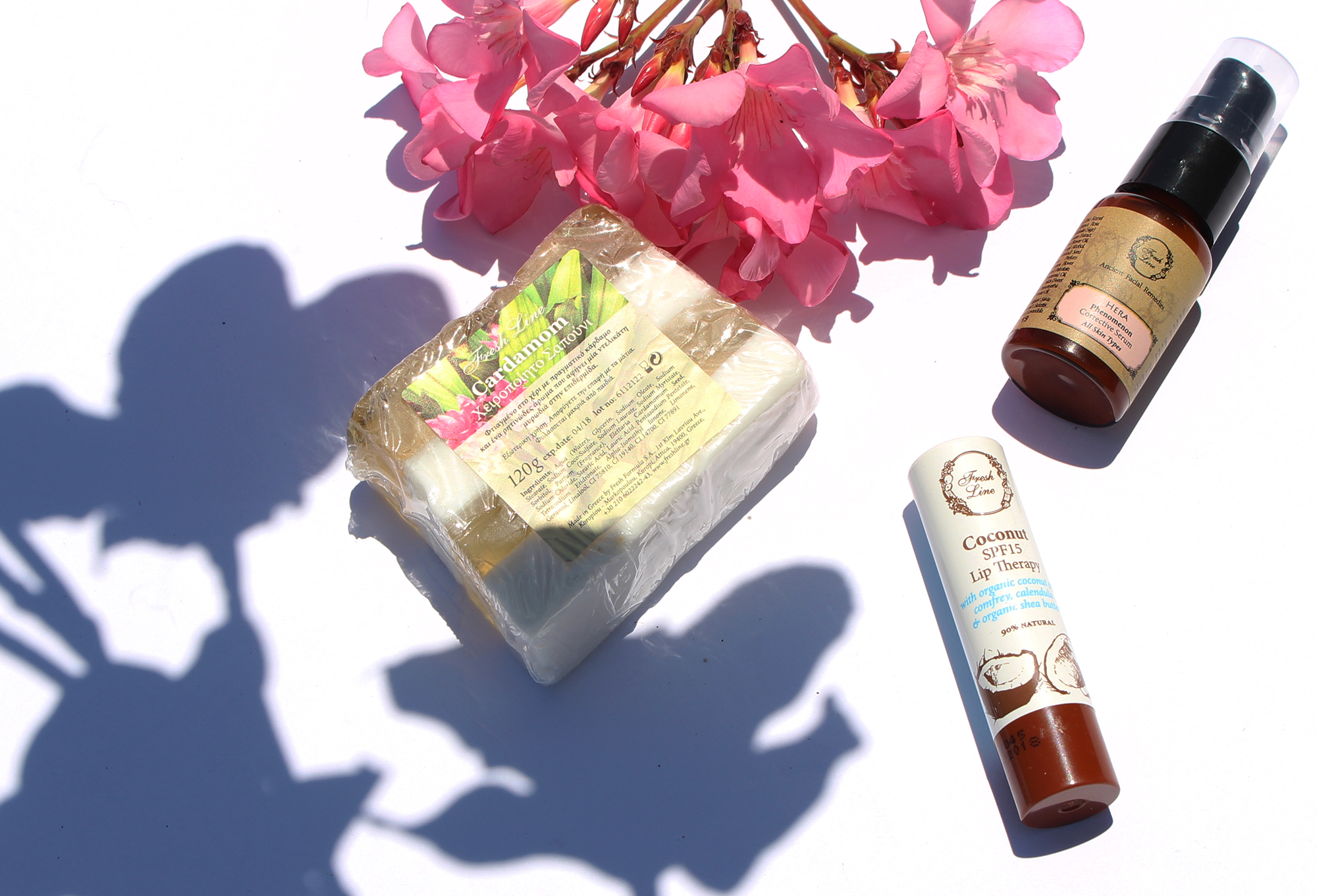 BODY | Pistachio & Almond Body Milk + Shower Gel / Cardamom Handmade Soap
This stuff smells heavenly! I literally could not stop smelling my skin. The body lotion is super hydrating ( enriched with sweet almond oil and sunflower oil that offer great emollient properties, relieve from irritations and improve skin complexion) and has an intense nutty, vanilla and pistachio ice-cream scent to it. Once I applied this all over my body, the whole room was filled with it's warm fragrance.
The handmade soap also has a stimulating, rich aroma : Cardamom. Did you know that cardamom is the world's third most expensive spice?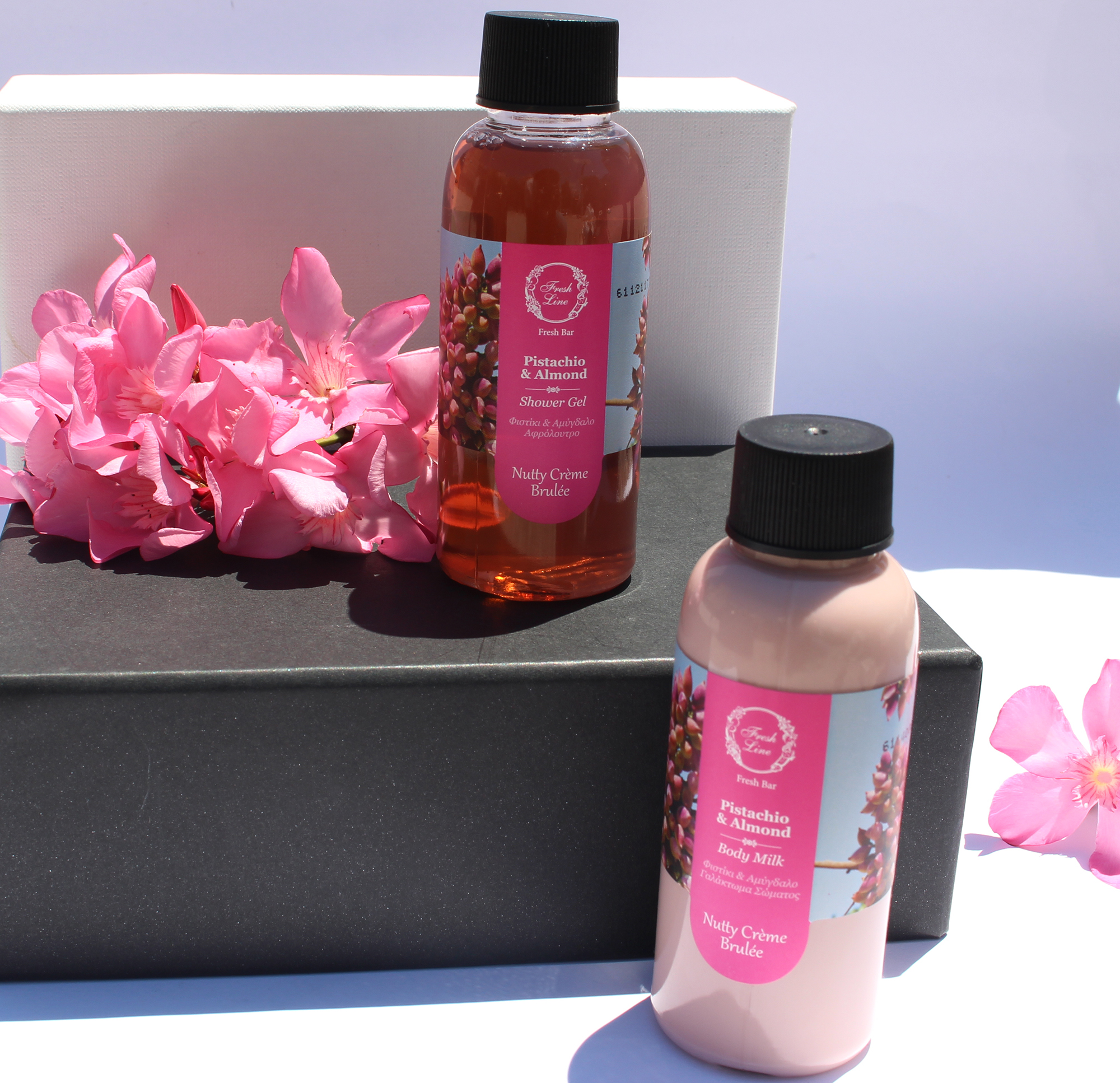 HAIR | Cleo Mild Hair Wash / Erato Leave-in Serum
What I loved about the hair wash is the fact that it doesn't contain :Silicone, Parabens, SLS / SLES, Propylene Glycol, Butylene Glycol, Petrochemicals, Phthalates, Collagen, Triethanolamine, GMOs, Carbomer. All these harsh chemicals really damage your hair. It has a discreet jasmine scent.
The leave-in serum is a multi-use serum with instant hydrating & softening properties, ideal for the prevention of split ends and frizzy hair. Enriched with Greek organic olive oil, rose essential oil & provitamin B5 that replenish, moisturize and restructure damaged hair. I really like it's light texture. It didn't make my hair feel sticky nor did it weigh it down after use. I will be repurchasing.