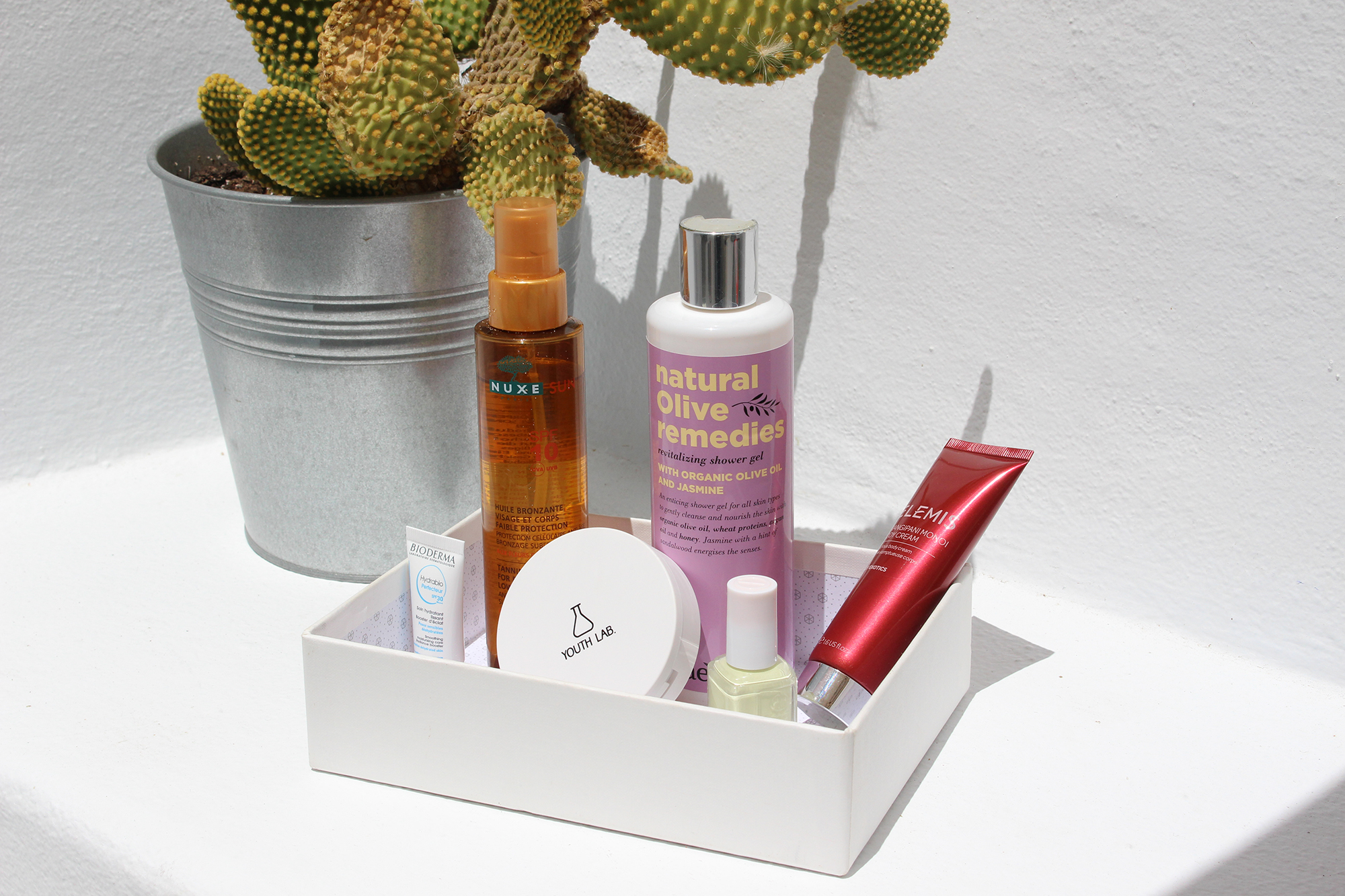 Third consecutive beauty post this week? Well, yeah! With so many great products out there, I just have to share with you my favorites. Plus, it's a whole lot easier blogging beauty products when your on vacations and always on the go. Don't worry got some fashion posts for ya next week 😉
Let's talk about my fav beauty subscription box: Glowbox. I carried July's box with me to Tinos and tried all the goodies.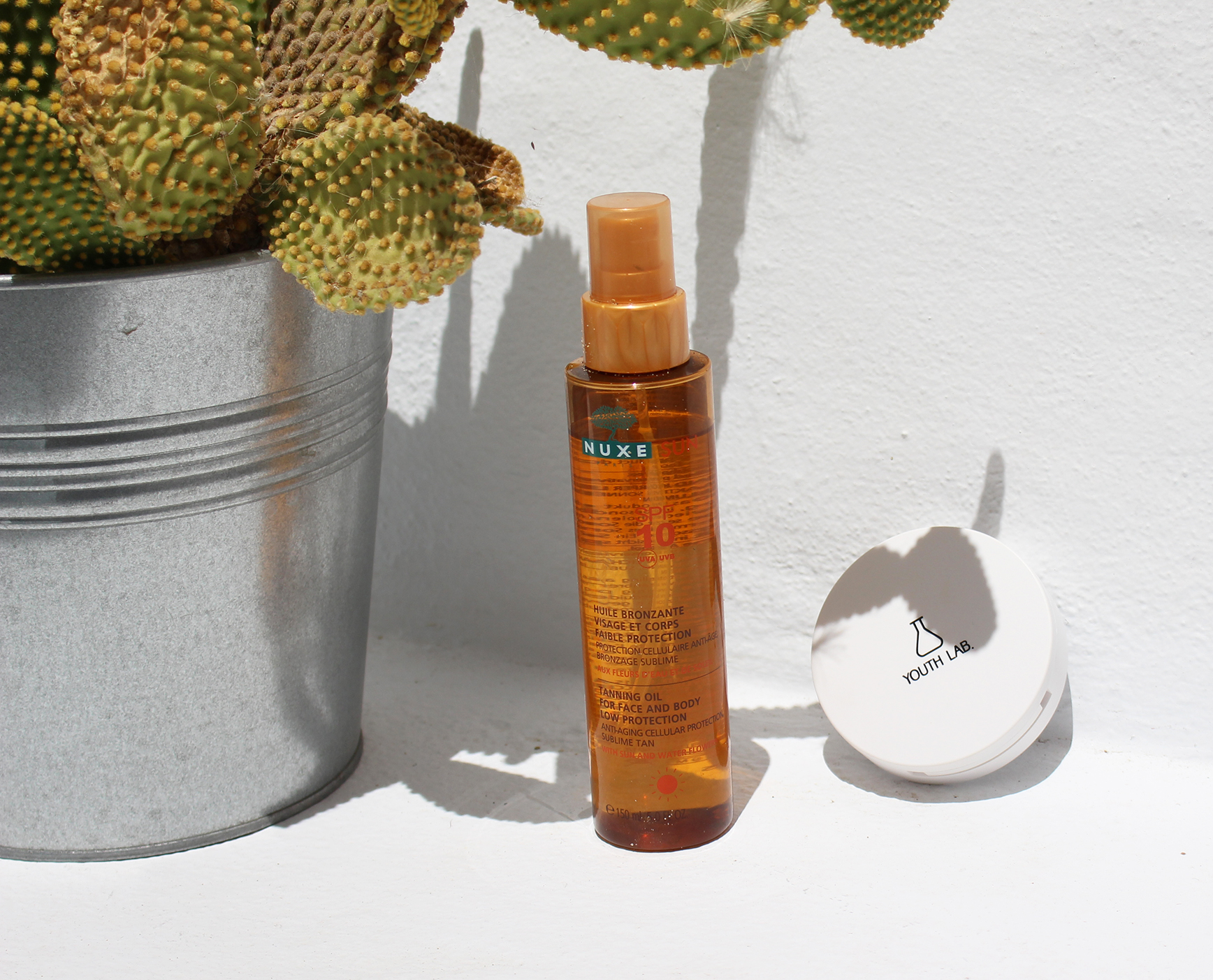 NUXE TANNING OIL FOR FACE & BODY // YOUTH LAB OIL FREE COMPACT CREAM SPF 50
To be honest, these are the only two products that I didn't use for obvious reasons, lol! No need for me to tan and the color of the makeup didn't suit my skin tone. However I did get my friend, Margaret to try them and she gave me her honest review: " The Nuxe tanning oil smells fantastic and feels great on the skin. I love that it doesn't leave a greasy film like most tanning oils do. It's light but gives a nice shine on your skin."
The Youth Lab compact cream is a powdery sunscreen foundation that provides high UVA & UVB protection in a travel-perfect compact with mirror and application sponge. It has a powerful antioxidant formula, which can be used daily, suitable for oily and acne-prone skin.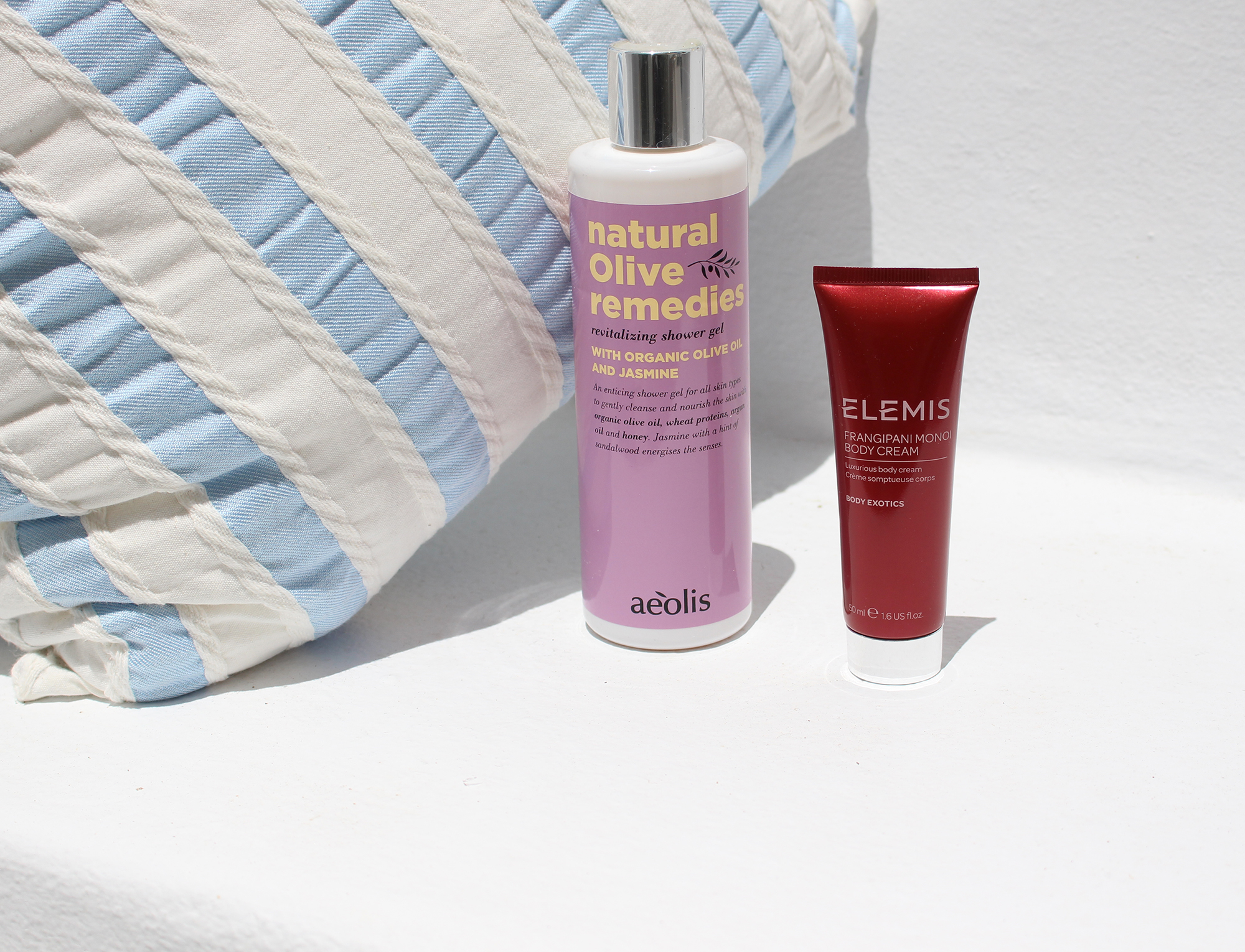 AEOLIS REVITALIZING SHOWER GEL // ELEMIS FRANGIPANI MONOI BODY CREAM
If you love the smell of jasmine then this shower gel if for you. The scent of this really wakes up your senses turning your morning (or evening) shower into a luxurious experience with it's rich lather. Other benefits besides the delicious aroma include  D-Panthenol, organic olive oil, argan oil, honey and mimosa tenuiflora extract. These skin friendly ingredients offer nourishing, anti-inflammatory, antioxidant properties which enhance hydration, firmness and protection.
The Elemis body cream kind of reminds me of Bobbi Brown's Beach. An exotic blend of Coconut Coprah Oil and sweet-scented Frangipani flowers. I am so obsessed with its fragrance, that I keep sniffing my arms. It's a lightweight lotion that absorbs instantly leaving your skin smooth and soft.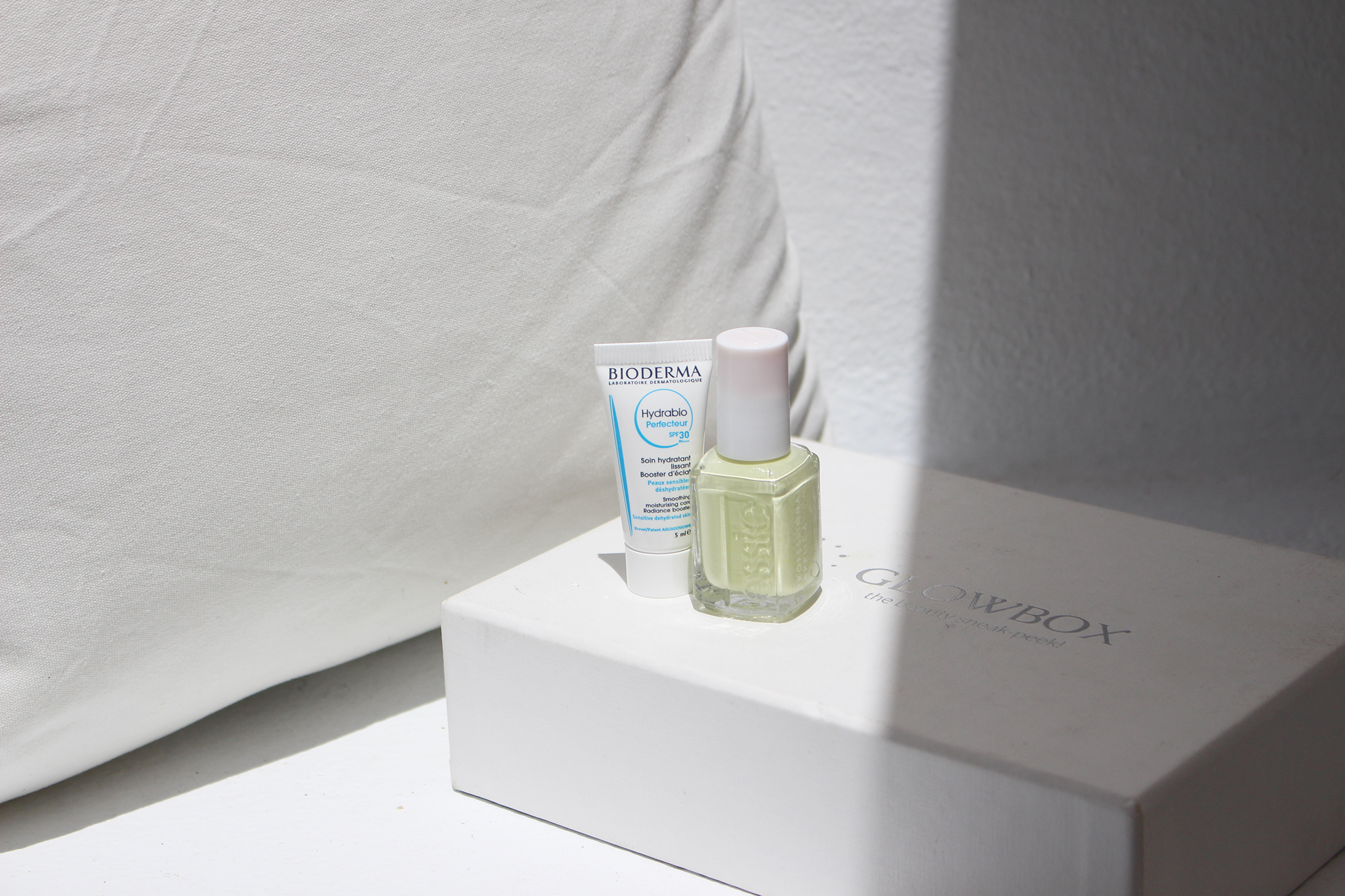 BIODERMA HYDRABIO PERFECTEUR SPF 30 // ESSIE NAIPOLISH IN CHILLATO
Like everyone I first heard about Bioderma when their infamous micellar water got popular. Since then I have purchased it a number of times but never got curious to try any of their other products. I must admit I was very excited when I saw the Hydrabio Perfecteur SPF 30 moisturizer included in the box. Unfortunately I got a tiny sample of Bioderma's moisturizer but it was enough for me to try and tell you what I think about it. It's  lightweight with great SPF. That's already a bonus for me! It delivers very intense hydration properties to the skin and also has a tiny amount of BHA, Salicylic acid in it, which help reduce blemishes. I also tried it as a base under makeup and it works very well. I'm going to be purchasing this once I run out of my current moisturizer.
Last but certainly not least, let's talk about Essie. I love Essie. In fact it's the only nail polish brand (out of many that I have tried) that seems to last on my nails before they start to chip. The polish has a green, yellow creamy color. It looks great on the bottle but doesn't translate well on the nails. It's thin and streaky and requires many coats to get an ok finish. I had such high hopes for this one but was disappointed.
Have you tried this color? Did you have issues with it?