When tension reaches its peak, I like to de-stress with a bath ritual: A warm, pampering shower accompanied by a scented candle. There's nothing better than a scented candle to give a perfect final touch to the atmosphere. I was recently gifted a 3 wick candle from Chandler Candles with the "Vanilla & Sandalwood" scent and I love it. It makes the air fragrant and the shower experience even more relaxing.
Now onto my current favorite beauty products:
Meraki is a new brand I discovered when I was in Copenhagen. They're  Danish and have a range of skincare that is based on a natural and clean philosophy. All of their products are free from all the bad stuff  that fill so many of the products on the market and they even offer a number of Vegan friendly items as well.
Silky Mist Salt Scrub
Exfoliating stimulates blood flow, removes dead skin cells, helps detox your skin and aids your skin in absorbing moisture. You should exfoliate 1-2 times a week for softer, healthier skin. This scrub contains essential oils making it very moisturizing and doesn't leave the oily residue you can get on your skin sometimes after using moisturizing scrubs in the shower. The salt crystals are quite big and hard. They don't dissolve on contact, allowing you to gently massage the scrub on damp skin and feel as though it is really helping aid in getting rid of dry and dead skin cells.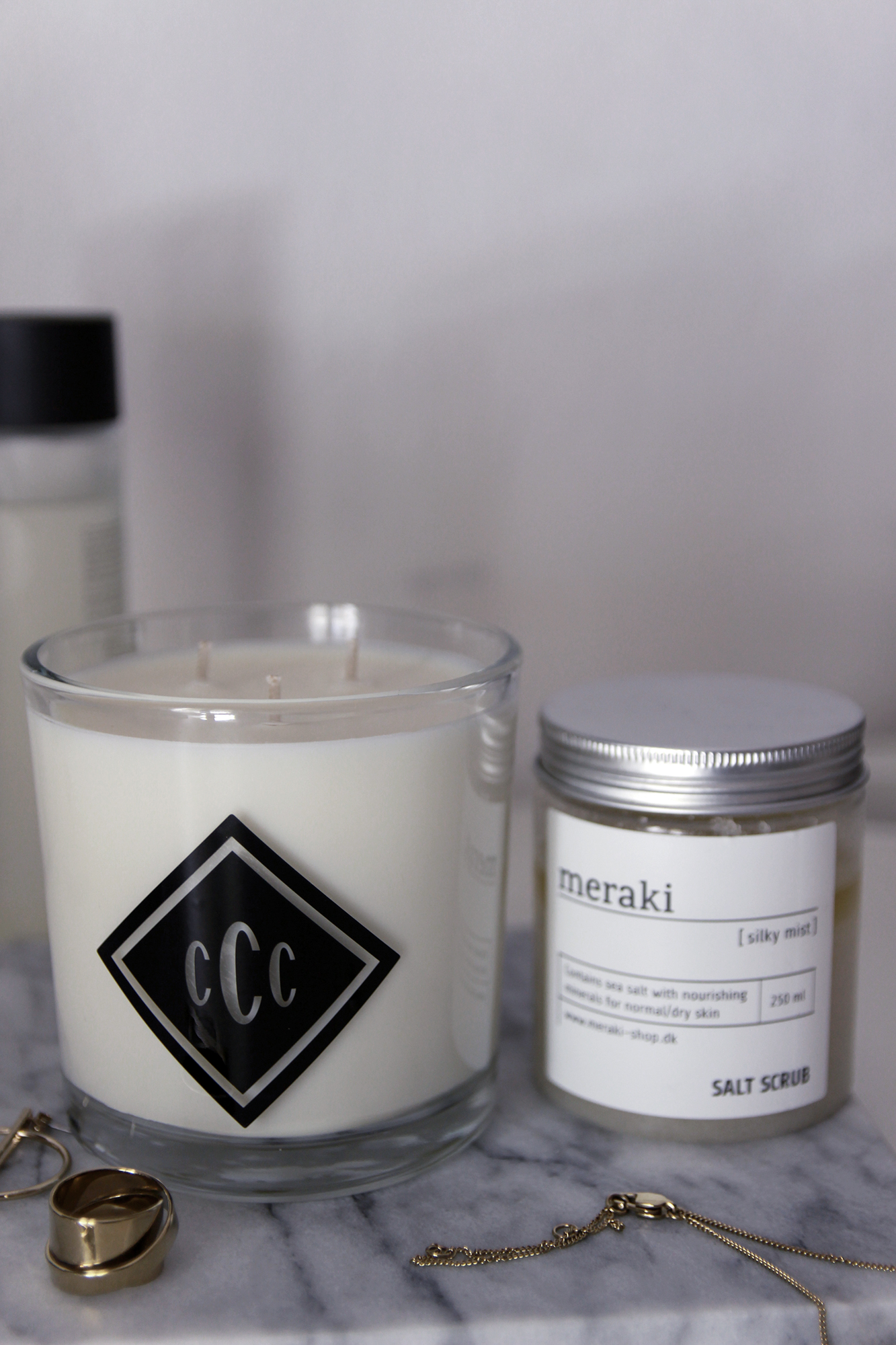 Simply massage in circular movements the moist skin with a small handful of salt scrub. I love the luxurious scent and feel os this scrub and it does leave my skin smooth and pampered after use. The tub is about 20 euros for 250ml and you only need a small amount for the whole body so it should last a while.
The Meraki Silky Mist body lotion contains organic sea buckthorn and is packed with Omega 7 and antioxidants that help keep your skin soft and supple. It has a refreshing citrus and orange scent and contains organic sunflower oil.The lotion has a very smooth texture, absorbs quickly, and does not leave a greasy film on my skin , but instead leaves it feeling supple and smooth. I love that it is free from parabens and colorants and is comes in a beautiful pump dispenser. It retails at about 20 euros for 300ml.